Our two hosts decide to host a challenge for the non-competitors and the newly eliminated contestants to gain another shot in Season Three, however, a sneaky reporter sneaks herself in to get some gossip on the show, and accidentally wins the second chance to compete in the competition.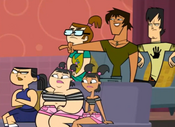 Bridgette and Geoff hold a challenge to determine who will return to the competition. Blaineley returns to gain stories for Celebrity Manhunt, much to the dismay of Bridgette and Geoff. As Justin spins the wheel, Eva throws her cell phone at the wheel and it pops off and hits Blaineley. Seeing this as a good idea, Geoff announced that Blaineley would get to compete in Total Drama High School now, mostly for just getting rid of her, and interns grab Blaineley and send her to the school.
DJ appears, but has no lines.
Blaineley enters the competition in this episode.
Ad blocker interference detected!
Wikia is a free-to-use site that makes money from advertising. We have a modified experience for viewers using ad blockers

Wikia is not accessible if you've made further modifications. Remove the custom ad blocker rule(s) and the page will load as expected.