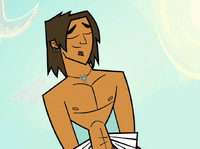 The Screaming Travelers are relaxing in winners compartment, while the Killer Adventurers suffer in the commercial cabin. Chris announces they are heading to Italy for a boat race, he then drops them out of the plane. Heather is leader for the Screaming Travelers, while Sadie is leader for the Killer Adventurers. Geoff and Bridgette make out constantly, causing the others to become annoyed with them. During the challenge, Heather got out a paddle and hit the front of the Killer Adventurers' boat to slow them down, while Gwen lights the engine on fire with a lighter, but Noah quickly extinguishes it. Alejandro jumps on board and knocks Heather down, Gwen and Courtney jump on him and throw him off the boat. Alejandro then takes off his shirt, when alligators come up to the surface, and he commands them to go after they Screaming Travelers' boat. Sadie crosses the finish line, while the Screaming Travelers fight off the alligators. During the ceremony, Geoff and Bridgette are the final two, Chris gives the final barf bag to Geoff, then Bridgette tells him to win it for both of them and jumps off the plane.
Darkdonpatch couldn't make it for the episode. So Reddude was Katie and Tdagirl563 was Noah.
Lindsay's Name Goof: Lindsay called Tyler "Tyson" again.
When the contestants landed, they landed on solid concret, but they were uninjured.