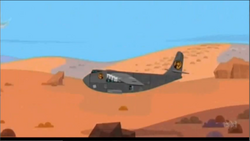 The Screaming Travelers are once again enjoying their time in the winners compartment, Heather talks about a plan to win the challenge, but everyone ignores it. Chris lands the plane this time, after everyone gets off, Chris explains the challenge is to find a red gem in the Super Pit Gold Mine. The Screaming Travelers take the path on the right, while the Killer Adventurers take the path on the left. Courtney and Duncan fight about which path to take, but make up by making out. Geoff finds his flashlight, so the Screaming Travelers can see. LeShawna trips on the red gem, Sadie and Katie squeal in excitement. Alejandro finds a mine car and the Killer Adventurers quickly get on and follow the path the mine car takes them. The Screaming Travelers find them and Courtney jumps onto the mine car, takes the gem from Lindsay and jumps back off. Sadie and Eva chase after Courtney and manage to catch her, but Gwen grabs the gem and runs the opposite direction. Sadie jumps on top of Gwen and takes the gem, while Tyler finds a secret passageway. Tyler stops Sadie and asks her to give him the gem since everyone is chasing after her, Sadie gives him the gem and then runs off and gives it to Lindsay, to impress Lindsay. Lindsay walked out of the secret passageway and won the challenge for the Killer Adventurers, when she didn't even know they found what they were looking for. DJ was waiting for his team, because he was scared to go in the cave. During the ceremony, DJ and Sierra were the final two, Chris gave the final barf bag to Sierra, while DJ had to take the Drop of Shame.
Lindsay won the challenge when she didn't even know she did.
Lindsay's Name Goof: Lindsay calls Courtney "Kelsey" in this episode.