The Final Season...Maybe
Season 1, Episode 26

Date Played
July 27, 2010
Location
Ontario, Canada
Challenge
None.
Winner(s)
Gwen
Episode Guide
previous
"The Aftermath: 3"
next
"18 Flags
(Season Two)"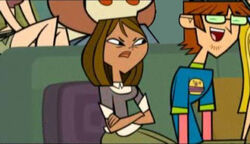 Gwen and Tyler were sitting in the winners cabin. Gwen asked Tyler where he thought they were going, Tyler said they were probably going back to Canada, which Gwen asked him why he thought that. Tyler said probably for the finale. Chris calls Gwen and Tyler to the cargo hold, once they get in there Gwen asks "Now what?", then the two fall out of the plane after a hatch was opened up. Gwen and Tyler fell in the aftermath studio on couches and were welcomed by their old friends. Beth, Justin, Trent and Owen were also there to cheer on the final two. Gwen was shocked to see Trent and Tyler was hugging Lindsay telling her he missed her. Chris comes in telling everyone that all the eliminated contestants will vote on the winner. Courtney told Chris she's got a lawsuit set up for him, and Harold tells her to stop being such a bad sport and starts laughing, which makes her angry. Sadie cheers for Tyler, while Katie follows her. After the results were done, Chris read the votes and announced Gwen was the winner of Total Drama World Wide. Gwen was shocked she won and Owen gave her a big hug. Tyler congratulates Gwen and Gwen decides to give Tyler 40,000 dollars to him, which Tyler gladly thanked and hugged her. Chris told everyone to follow him for a special treat, he took them back on the plane. Once on the plane, Chris told Katie, Geoff, Bridgette, DJ, Owen and Trent to go to the winners cabin and then dropped the rest of the contestants into an abandoned amusement park, where Chris announces they have made it to Season Two.
DJ appears, but has no lines.
Beth, Justin, Trent and Owen make appearances in this episode. Beth and Justin make it to Season Two.
Zannabanna was replaced since he never showed up. Reddude is now playing Ezekiel, while DJ will be played randomly by other users.